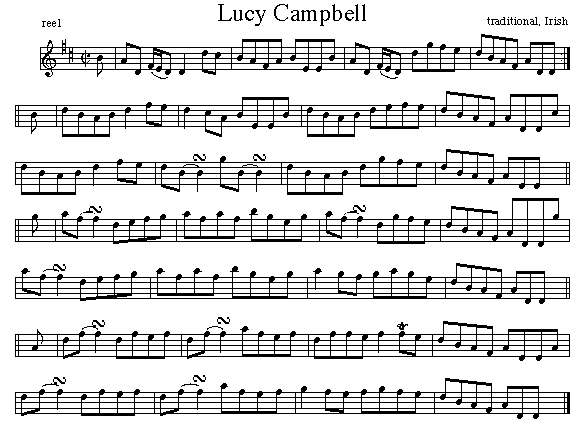 Jerry Holland - fiddle / Hilda Chiasson-Cormier - Piano / John Doyle - Guitar / Cheryl Smith &endash; Snare Drum / Sharon Shannon - Button Accordion / Mary Shannon - Mandolin
Sound Clip comes from Jerry Holland and Friends where it was played as part of the following medley:
Carmel Mahoney Mulhaire (Martin Mulhaire /Mulhaire Music, BMI) / Lucy Campbell (Tradtional) / The Honourable Mrs. Graham of Balgowan (Daniel Dow, PD)
A famous Irish reel, Lucy Campbell was published in the 18th century as a Scottish strathspey. Over the centuries it has been popular both on pipes and fiddler. The Irish setting above gained currency after an influential 78 by Michael Coleman. In Cape Breton the four part key A pipe setting is most common (DunGreen Collection).