The Glengarry Collection Vol. 2:
The Highland Fiddle Music of Angus Grant
by Barbara McOwen, Laura Risk & Peggy Duesenberry
This is Angus Grant's 2nd collection of tunes, stories, history, and photographs from Scotland's influential contemporary highland fiddler. Similar in size an format to the first well received production, this one includes completely different repertoire.
You will find a good mix of all the common Scottish tunes types with emphasis on pipe tunes, slow airs and original music.
Sample tunes/page layouts below
Includes a DVD which includes Grant's performances of nearly half the tunes in the book.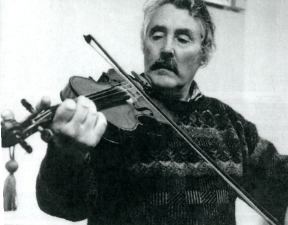 Angus at home c. 2007