2019 marked Cranford's
40th Year Publishing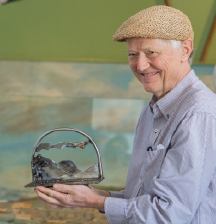 Paul Cranford receiving the Katherine McLennan Award, an acknowledgement of contribution to culture and historical preservation on Cape Breton.
In 1979 Cranford's work began with a reissue of a classic 19th century Scottish compilation, The Skye Collection.
Cranford Publications specializes in Celtic fiddle music from Cape Breton, Ireland and Scotland. Proprietor Paul Stewart Cranford is a fiddler, composer and retired lightousekeeper well-grounded in the traditions of music he sells, performs and arranges.
This site provides resources for a continuing tradition by supplying books of music notation and related recordings.
The secure online store has remained more of less the same since 1999. Working alone, as time permits I plan to upgrade the look, feel and functionality of the store and website evenually making it mobile friendly. I am also looking at the making publications available digitally.
As you explore the site you will find links to thousands of tunes. Check out any page which features a book or CD that interests you - on most you will find links to tunes. As CDs go out of print I still post support material as free, on-screen musical notation and sound clips or link to articles, photos and descriptions - all relating to books and CDs which we make or have made available in our on-line store.