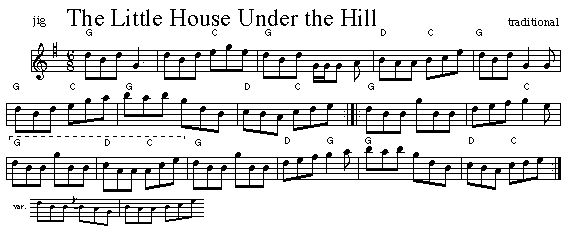 Jerry Holland &endash; fiddle / John Doyle &endash; Guitar / Hilda Chiasson-Cormier &endash; Piano / Sonnich Lydom &endash; Harmonica / Jerry Holland Jr. &endash; Snare Drum
Sound Clip comes from Jerry Holland and Friends where it was played as part of the following medley:
Willie Coleman's Jig (Traditional) / The High Part of the Road (Traditional) / Little House Under the Hill (Traditional)
Notation above first published in Jerry Holland, The Second Collection
The title come from 18th century Ireland where it was attraibuted to Piper Jackson. The early Irish settings were generally multi part in the key of D.

Locally, in Cape Breton, the more common setting was an adaptation of a key G setting somewaht similar to what was found in Ryan's Mammoth Collection. Jerry's setting is unique and could almost be considered a new tune.