Local
Fiddle Music

Navigation Buttons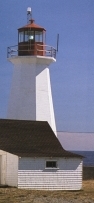 Fiddler's Corner ... and more
The Victoria Standard is a small bi-weekly newspaper located in Baddeck, Victoria County, in the center of Cape Breton, not far from Cranford Publication's rural location. Since 1993 years Paul Cranford has submitted 26 tunes per year mostly from various local composers to an article titled Fiddler's Corner. Most of those tunes have been chosen to promote a local event or new recording.
We will be posting a sampling of these tunes, as they are requested or as they apply to current events, publications or recordings.
The tunes below have either appeared in Fiddler's Corner or relate to a tune already published there. If you are interested in subscribing to the newspaper email The Victoria Standard.
Today, Feb. 6, 2000 we have a medley of tunes composed by New Brunswick fiddler Eddie Poirier, a recent recipient of an East Coast Music Award (ECMA).
The CBCs Kitchen Party is a weekly real audio, radio one, shortwave live broadcast. On Mar. 25, 2000, Jerry Holland and Scott Macmillan will be performing Scott's tune, Minnie Adam's House along with a new one of Jerry's.

Minnie Adam's House a reel first recorded by Scott on Puirt a Baroque's 1st CD, Bach Meets Cape Breton.

Piper Paul MacNeil and pianist Tracey Dares have launched a new website.Tracey and Paul's new album is titled "CastleBayMusic.com". It will be available by Summer 2000!
A couple of years back Angus Chisholm's Jig was presented in Fiddler Corner. Jerry Holland spent much of his youth accompanying the late-great, Margaree fiddler Angus Chisholm. Recently Jerry Holland's Collection of Fiddle Tunes went into a 4th edition. A related tune in that book is called A Memory of Angus.
Fiddler Kate Dunlay made her recording debut as a soloist this year on Tunes Till Dawn. She performs her own composition, Keeper of Delight accompanied by her husband David Greenberg on pump organ.
Groves Point fiddler Billy Stubbert passed away in June 2002. A generous host to many a house party, Billy was a keen supporter of the Cape Breton Fiddlers' Association and regular participant at the weekly Rollie's Wharf sessions. John MacLean's march, Moladh Maureen Nic Coinnich , with variations by Brenda Stubbert was one of his recent favourites.
Jean MacNeil is the mother of the group The Barra MacNeils. Before she was married and moved to Sydney Mines, Dan Hughie MacEachern was a frequent visitor to the Mackenzie family home in Washabuck