Golden Crowned Sparrow
On Machias Seal Island June 28, 2003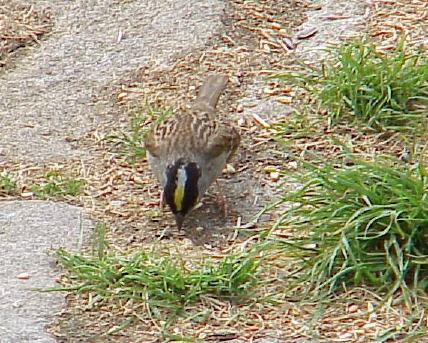 photo David Larson 6/28/03
Sighted June 28, 2003 by lighthouse keeper Russell Ross ... verified by numerous on-site 'ornithologists' (birders more qualified than Russell or me).

Kate Devlin - UNB
Amie Black - UNB
David Larson - Mass. Audubon
Strickland Wheelark - Mass. Audubon
Julie Paquet - CWS
Chris Novak - CWS

The Golden Crowned Sparrow is normally a far western bird. At this time of year it should be west of the Rockies around the treeline. Average winter range is San Francisco - Vancouver though it will stray into Southern California. Because of its usual range it is most likely that this bird would have travelled across the continent - not along the coasts.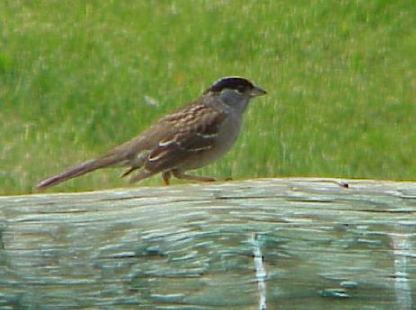 photo David Larson 6/28/03
According to Tufts (1986) only two Canadian sightings have been made east of Ontario (where it was sighted a few times in the 80s). The last two Maritime sightings of this bird were 1967 (Sable Island), and 1977 Caledonia (Queen's County, NS). As well, up until 1986 there had been only a half dozen sightings in the North Eastern US. We don't have current US data on hand though welcome your input.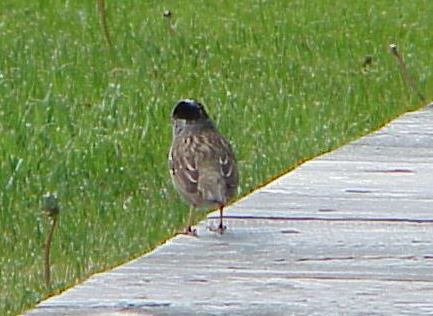 photo David Larson 6/28/03
FYI- Books consulted while viewing the bird

The Sibley Guide to Birds (Audubon Society)
All the Birds of North America (American Bird Conservancy Guide)
Roger Tory Peterson - Field guide to North American Birds
Field Guide to the Birds of North America (National Geographic Society)
Birds of Nova Scotia, by Robie W. Tufts

Below is a copy of an email written by David Christie to Durlan Ingersoll (after David had seen this web page). note: Durlan works on 'Seawatcher', one of the tour boats which comes to Machias Seal, David is the chairman of New Brunswick Bird Records Committee.

Durlan: Are there any confirmed (documented) sightings of this bird in NB?

David: Wow! No, there have been no confirmations in New Brunswick -- until now that is. It's clearly a Golden-crowned. I've had a couple of reports, for one of which there is single-observer documentation. Can't quote them offhand.

This bird is at a most surprising season. One would most likely expect it to show up here from fall through spring.

Congratulations to Russell Ross and all other observers on this on this great find! Thanks for reporting on it, Durlan.

David Christie

If this bird gets accepeted by David's committe, the addition of The Golden Crowned Sparrow will bring the provincial total to 401 species!!
Machias Seal Island

Cranford Pub Search Engine
6/28/03