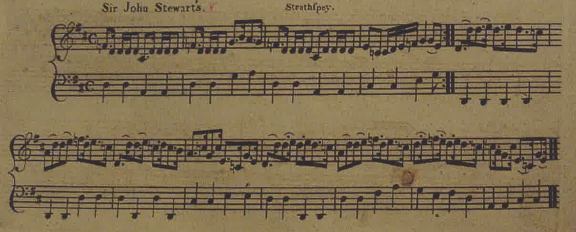 A scan from one of Anderson's Collections, the tune is actually a setting of Athole Brose which is generally attributed to Abraham MacIntosh (son of the famous composer Robert MacKintosh). Apparently he called it Buckingham House and the Gow's re-christened it with a name that stuck.
Included in the Skye Collection as a Favourite of Niel Gow in Cape Breton's aural tradition it has always been very popular. It was first recorded on 78 disc by Dan J. Campbell and Angus Allan Gillis in 1935. Cape Breton settings are found in Jerry Holland: The 2nd Collection and The DunGreen Collection.
A totally different setting in A minor is found in Skinner's Scottish Violinist.
Other Examples of Music Notation
Cranford Pub Search Engine
last update 5/13/14