Natalie MacMaster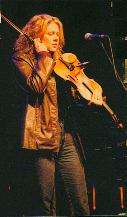 Cape Breton Fiddle Tradition Reaches New Peak
by Ron Foley Macdonald (AtlanticZone.ca) June, 2002
The Cape Breton Fiddle Tradition, one of the great musical lineages of North America, has reached something of a zenith this spring with the release of two landmark albums. With Natalie MacMaster's double-live CD (on Warner Music) and Slainte Mhath's second album simply entitled Va (on the indie label Maple Music), the Cape Breton Fiddle Tradition has begun the 21st Century in better shape than it entered the 20th.

In Natalie MacMaster, Cape Breton music has found a durable champion who has built an impressive career out of the traditions she grew up with. While her studio albums have dabbled with various musicals forms--you can find bits of Texas Swing, Gyspy Music, Hot Club of France-style Jazz and even a dash of bluegrass throughout her CDs--she's never wandered very far from the touchstone of mainstream Cape Breton Fiddle traditions.

On her new double-live CD, MacMaster brings it all back home. While one disc sees her regular seven-piece touring band tearing through a wide selection of material recorded in a concert appearance in Mississauga, the second catches the flaxen-haired violinist at a Glendale, Cape Breton dance accompanied only by Dave MacIsaac on guitar and Joel Chiasson on piano.

The difference is telling. While the Ontario concert features a broader palette of musical textures--particularly from the guitars, drums and percussion--the Glendale session is raw, unadulterated Cape Breton music in all its economical glory. After all, the Island's Fiddle traditions are based in the social activities of the Friday and Saturday Night Dances which erupt in every corner of Cape Breton throughout the year. Like much Latin music, the demands of socially-derived dance music help define form and delivery. Ultimately, it's one of the great cultural imprints of the East Coast.

Natalie MacMaster's double-live CD manages to sample various musical formats while re-confirming her own connection to the tradition that formed and shaped her musical sensibilities. It's a marvelous set that proves the Cape Breton Fiddle Tradition is stronger than ever.
'LIVE' Review
By Tom Knapp - Rambles

It can be hard to pick favorites. When the subject is fiddlers, the field is packed with so many talented performers, the task might seem insurmountable.

Unless you know Natalie.

There are a lot of reasons why Natalie MacMaster ranks among the very best of the world's fiddlers. A lot of those reasons can be heard on Live, her long-overdue concert CD.

Make that CDs. As if the concert recording from 2001 at the Living Arts Center in Mississauga, Ontario, wasn't enough, there's a second disc featuring Natalie going back to her roots for a dance at the Glencoe Mills dance hall in her native Cape Breton, Nova Scotia, in 1997. Combined, the package is a potent one-two punch of some of the best fiddling you're going to hear -- anywhere -- and it's a fair snapshot of the diverse work she's done over two decades of performing.

Disc one is Natalie at her most dazzling -- fiery stuff with her current touring band. She provides the fiddling, a bit of stepdancing and occasional commentary. With her are Allan Dewar on piano, Brad Davidge on guitars, John Chiasson on bass, Kim Dunn on keyboards, and Miche Pouliot and Daniel diSilva on percussion.

Anyone who's seen Natalie in concert knows the kind of energy that boils from the stage. Her fast sets are like lightning, powerful blasts of tunes that rouse the spirit and get the blood pumping faster. Her slower tunes, like her trademark "Blue Bonnets" represented here, well up with so much emotion, it's hard to believe she's working with just wood, wire and horse hair.

There's more than an hour of music, and there's not a sour note or a dry moment to be heard. Favorites are hard to pick, but I probably hit the "repeat" button most often for "The Fairy Dance" and "Tullochgorum." She also adds some international flair with "Torna a Surriento," which begins with an Italian melody and ends with a flamenco.

With Natalie's band kicking it up behind her and the crowd's appreciation roaring through the music, it's a concert CD to enjoy over and over again.

Then it's time to switch to disc two for a hearty taste of Cape Breton traditions. Natalie fronts a standard trio, with Dave MacIsaac on guitar and Joel Chiasson on piano for a series of lively dance sets. (As anyone remotely familiar with Cape Breton society knows, the Glencoe square dances are far removed from American square dancing and are guaranteed to provide a vigorous aerobic workout.

The arrangements on this CD are more basic and the tempo is rock steady, providing the impetus for a hall full of dancers to keep their heels moving. It's pure Natalie all the way, reminding me strongly of the first few times I saw her perform with only MacIsaac and keyboardist Tracey Dares in support. A live recording of Natalie in this setting is a cultural treasure.

One of the joys of Natalie's music is the oh-gosh-I-do-this-for-a-living wonder that has added extra zing to her playing from the start. Live is the best of both worlds, giving Natalie MacMaster devotees and Cape Breton purists exactly what they want to hear. This set is a fiddle lover's dream come true.
NATALIE MACMASTER - Live
By Wanda Earhart - What's Goin' On Magazine

The much anticipated latest offering by sensational fiddler/dancer Natalie MacMaster is taking its place in the machines of dedicated listeners all over the world, and don't be surprised if it's months before any other artist gets a chance to be heard. The double CD collection Natalie Live, gives an incredible sample of a brilliant artist at work. It is almost impossible to imagine that twenty years have passed since Natalie first performed in public. We have all watched her mature from the young girl, coming up with her generation of performers, to surpass all expectations and become the internationally renowned entertainer she is today.

This collection is broken into the two sides of her slow and steady rise to world-wide recognition. One, taped at a dance at the Glencoe Mills Hall, surrounded by familiar faces and dancers, doing what they do in rural Cape Breton, shows the down home side of Natalie, where tradition reigns and the tunes are devoured by people who know their music. The other, taped at the Living Arts Center in Mississauga, Ontario, highlights the concert side, where Natalie is free to experiment with styles, bowing, as well as all genres of music. Her creativity is boundless, original, fresh and no matter which venue she plays, an audience is sure to be overwhelmed by a powerful performance, her easy rapport and of course her incredible stage presence. This collection allows fans to experience the magic any time. But one word of caution, there have been recent reports of music tempo having an effect on the speed of drivers, so this is one cd that should come with a warning label - Drive With Care While Listening. It could be dangerous!

Let's start with the concert cd, that begins of course with the vision of Natalie striding slowly to center stage with the stirring sound of the Farewell. If you've seen any of her soft-seater shows these past couple of years, then chances are good that it will all come back to you. I recall last October during Celtic Colours, how impressed Scottish accordion icon Phil Cunningham was with this set, particularly as it includes one of his compositions, "The Golden Tooth". Natalie of course does wonders with the entire arrangement. This is followed by the "Fairy Dance", which defies anyone to remain seated or at least, still.

"Torna A Surrento" introduces newcomers to the Flamenco influence that has captured the imagination of Natalie for the last while. The heat is on with the first tune that sets the tone for one wicked set that mixes the traditional with a Latin rhythm for one exquisite dance beat. I don't think I have ever heard "Blue Bonnets over the Border" played with such care and emotion as from this master of the slow air. "David's Jigs" are a couple of MacMaster's own compositions and are distinctly invigorating, with obvious innovative bowing techniques.

Many may get the idea that "concert disc" may mean stuffy, but those who have witnessed the live show know nothing could be further from the truth, as Natalie is often heard to say "It's just ourselves", encouraging everyone to have fun and go with the flow of the night. She lets loose and wins a crowd with her ability to blend the old with the oh so new.

Disc Two will likely be a favorite of traditionalists who like the old ways and don't get the idea that it means boring. Far from it! The opening lets you know that Natalie is at home and among friends and family for an evening of collaboration among the players, dancers and listeners alike. It's a dancer's dream as she plays a marathon of reels fit for any Inverness gathering. The spirit of the community comes alive through the familiar tunes and response from those fortunate to be included in the scene, and they let you know they are there, loud and clear! From Sandy MacIntyre's "Scotty Fitzgerald Jig", to the "Old King's Strathspey", the list of incomparable tunes will have any celtic enthusiast reeling from the menu! Natalie is joined on this disc by Dave MacIsaac on guitar, and Joel Chiasson on piano.

The set is an obvious gift from a performer who gives nothing less than perfection, no matter the venue. She may have been reluctant to release a live CD, but this work and the reaction from those who are enjoying it should calm any doubts. She never stops pushing the limits to stay true to her roots, while introducing the fiddle to a whole new world of sound. Whether she's playing for thousands or a few good friends, Natalie MacMaster is just herself. That's the reason she can claim several types of fans as her own, and this collection of work demonstrates just how successful she has been at delivering the goods to suit the many sides of one amazing fiddler!
CD Captures MacMaster's Energy
By Sandy MacDonald - Halifax Daily New

Natalie MacMaster - Live (WEA)

There's no place on Earth that pulls its people home like Cape Breton. For generations, Cape Bretoners have been crossing the causeway in search of better opportunity, always fighting that intangible urge to go back home.

Natalie MacMaster is a proud Cape Bretoner, setting new standards for fiddle players with her shining career - headlining in international concert halls and on national television. But her musical forging in the sweat-drenched dancehalls underpins her elegant touring stage show.

This new double CD captures both sides of the talented musician - the first disc spotlights a refined MacMaster and her six-piece band, lifted from a performance for a CBC television special at the Living Arts Centre in Mississauga, Ont., last summer. The second disc finds MacMaster playing close to the floor at the Glencoe Mills Hall, accompanied only by Dave MacIsaac's driving acoustic guitar and Joel Chiasson on the rattling piano.

The spirited Glencoe set is the real deal, the proving ground for Cape Breton music. Stylish clothes, fancy lighting and witty stage banter don't count a fig there. If the fiddler can't push the dancers through the sets, there's always another player in the audience with a fiddle in the trunk ready to go.

This 42-minute set recorded live at Glencoe Mills catches the electricity of the live show. You can hear MacMaster greeting old friends while she's tuning up onstage, and shouting key changes to the band. People whoop in the back, clap and cheer.

Whatever audio compromises are made by the sparse two-mike recording are more than compensated by energy. You can almost feel the floor pounding in time to the stepdancers.

The disc is laid out like a night in a Cape Breton dancehall, with an opening and second figure for the dancers to work through the looping chain of steps. MacMaster pulls out the classic strathspeys, reels and jigs that have become part of the fabric of Inverness Co.

Those timeless tunes easily make the transition to the bright lights of Mississauga for MacMaster's television special, My Roots Are Showing. In the hands of her slick road band, the traditional music gets polished, like setting the diamonds in a fancier ring.

The Living Arts set lets her band stretch out a bit, as they uncork some funk and pop lines behind MacMaster's fiddling. But she always keeps her playing well grounded in the traditional track.

The perfectionistic MacMaster had long been reluctant to release a live set, fearing her performance might not measure up. But when she heard the playback from the Living Arts set, she got excited at the raw energy. To find a tape of a live dance that measured up took more work - she went back five years to find the Paul MacDonald-recorded night at Glencoe Mills.

Natalie Live
Cranford Pub Search Engine