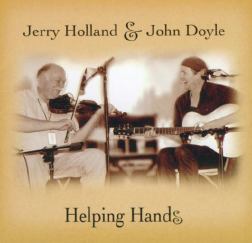 links to secure server / on-line store

Selected MP3 sound clips, & /or Standard Notation

Jerry other recordings
Jerry Holland and John Doyle, "Helping Hands"
Review by Gwen Orel for irish Music Magazine
"Helping Hands" is the late Jerry Holland's last CD. That makes it a must for trad fans. But it's much more than that. It pairs Holland with Irish guitarist John Doyle and it's arguably the Cape Breton fiddler's best ever. Recorded in June 2009, just before Holland passed away from cancer, the CD highlights Holland's way with a beautiful melody, set off by Doyle's sensitive harmonies and, when called for, driving rhythmic syncopation.
The two musicians fill out the sound, you can hear every note, including the pressure of the horsehair on the strings, for an effect that is spare, yet full; stripped down but not sparse.
The picture on the CD cover was taken at the Icons Festival 2008, where Doyle and Holland broke into spontaneous merry laughter as they played. It was unforgettable.
Holland has recorded many of the tunes before, but they sound brand new with these new settings. The title tune is one of the last Holland composed, shortly before the CD was recorded. Holland describes it in his liner notes as referring to all the people who had helped him over the years. With Doyle's delicate, playful accompaniment, it's irresistibly joyous. The CD opens strongly with the first set, Angus MacIsaac/Alexander William MacDonnell/The Black Hoe/The Drover Lads, the first two by Holland and the last traditional. This set establishes a tone that is jaunty, upbeat, and exciting. You hear how Doyle's guitar drives the rhythm and how Holland keeps the tempo steady yet builds with him. The marches are particularly sensitive. Holland's Danish Cape Breton Society March, inspired by visiting the Denmark Tønder Festival in 2001, has a gentle, stately appeal, it's a march in satin slippers, nicely decorated with Doyle's sweetly sensitive mandola.
This CD is an instant classic, and how lucky we all are that Holland did find the strength to bring it to us, with the help of those loving hands.
Other reviews
The Irish Voice | The Bir